MS Lofoten – Life on Board a Vintage Ship
The MS Lofoten, a vintage beauty, is the oldest boat still in operation of the Hurtigruten fleet, built in 1964. It measures only 87 metres long and has 151 beds, capacity for 400 passengers but no vehicles. While it may be the oldest, it is also a crowd favourite, due to its small size and intimate and nostalgic ambiance. On our trip north, we were 87 passengers in total, but on the trip south, I am guessing we would be only about 30 in total. The trip in the northerly direction is far more popular.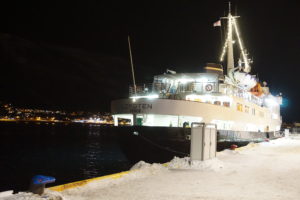 Hurtigruten holds the government contract for being the shipping provider in Norway, including delivering mail, supplies as well as ferrying locals up and down the coast. So while ambiance on board is relaxed, it is also very organized, as there is a strict itinerary to be kept every day. Over the course of our 6 day journey up the coast from Bergen to Kirkenes, we called into 34 ports in total. On the return voyage, we make the same stops but at different times of the day, so that towns that we could not visit on the northbound trip because it was say middle of the night, we may be able to visit on the return voyage. Some stops are a short 15 minutes to do a quick drop or pickup, and there really isn't time to get off the ship, but other stops are longer, up to 2-3 hours where there is ample time for exploring or taking advantage of an excursion.
Our "tour leader" for the Roundtrip Classic Voyage has been Osker and it is Osker's pleasant voice that gets me up each morning! All rooms are equipped with a speaker system, volume controllable by the handset of the telephone. You can opt to have the announcements turned on or off. But there are advantages to having them on as that is how sightings of Aurora Borealis are announced, as well as the "hurry-up" announcements that the excursions are leaving. I started out the trip by setting an alarm, but now I don't get out of bed until I hear Osker chirping good morning in three languages :o)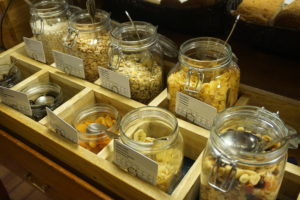 Breakfast bar is open every morning for a few hours, usually 7am to about 10am. Breakfast is open seating and it's never been busy, or a problem finding a table to sit at. The breakfast offering is over the top with hot and cold selection, a full bread bar, a yogurt bar, lots of fresh fruit, pastries, juice, coffee, tea. My favourite indulgence has been smoked salmon and/or halibut every morning which is such a treat.
After breakfast there is time to watch the scenery as the sun will have started to make an attempt to creep above the horizon. There are majestic landscapes to admire, always visible from the ship, because we hug the coastline very closely. There is time to chill in one of the many lounges, watch some CNN, read a magazine, play some cards, or just socialize with other guests. There is a nice familiarity on board especially with those of us who have travelled in both directions. We are starting to feel like family.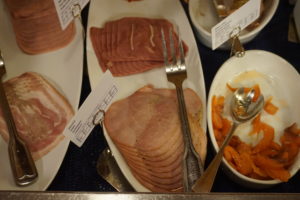 If there was a chance to hop off the boat for a morning excursion, those who have signed up, will have done that, and then from noon to 2pm the lunch buffet is open. Again, an amazing selection of local delicacies from the Coastal Kitchen. We've had everything from reindeer to halibut, to char, ox, wolf fish and coalfish and everything in between. Always a hot and cold selection, and always a nice warm soup to start with. Lunch is open seating as well, and we're free to sit where and with whom we please.
The afternoon usually involves a short cat nap as the fresh morning air and satisfying lunch as well as the change from light to dark by 2pm seems to start to creation of melatonine. I can't get over how much I've slept in the afternoon on this trip!!
There were two seatings for dinner on the north voyage and I had the earlier seating at 6pm, table #6 with Laura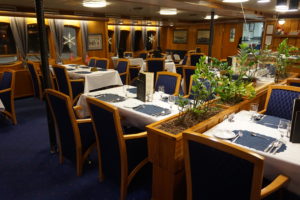 and Dean (from Bristol). Dinner is always a 4 course plated meal and there has been a different menu for every night we have been on board! I have been avoiding meat (except for game) and dairy and the kitchen staff have been amazing in remembering my preferences. In some cases, they made a few adjustments to my plate, but in other cases, I have received a completely unique and separate meal. The level of service provided around ensuring that everyone's dietary restrictions have been met has been nothing short of impressive. On the return voyage, the two dinner seatings have been consolidated into one since there are so few of us and we all eat at 7pm.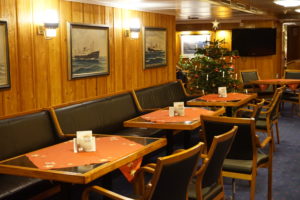 After dinner, there is time to share and reflect on the day's activities, exchange photographs, play cards, or just read. It's also a time when coats and cameras need to be close at hand because when the announcement is made for a sighting of the lights, everyone does the mad dash to the upper deck with the intent of capturing this amazing phenomena. Elusive, though, they have been. And while there has been some visibility with the naked eye, we have been relying on the camera lens to capture the real intense colours.
Clearly, a highlight of this voyage has been doing it on the MS Lofoten, the grand lady of the Hurtigruten fleet. The crew is small and it is apparent that they are all very close. You can see it in how they relate to each other; they seem to be like family. This permeates through to the guests, and makes for a very special and memorable experience. Highly recommended!