Seasonal Summer Chic – 5 Great Trend-Setting Looks
This summer we have so many amazing fashion breakthroughs to look forward to. Between cuts, colours and shapes, there are many different looks we're just itching to try. Here are some great trend pieces that you can make office chic, and that will easily work with items in your existing collection.
1. Culottes
Culottes are a great way to stay cool while maintaining a professional yet stylish look. Think of it as the updated trouser pant. Instead of wearing your cropped trousers for summer, these loose yet tailored pants will be less constricting and completely on trend. Topped with a cool, loose blouse, and paired with a simple, minimalist heel, you'll have look that you will want to wear beyond the Monday to Friday. When purchasing a pair of culottes for work here are two tips you should keep in mind.
Fabric: Choose culottes made of structured or dressy material. Try to avoid stretch or spandex material because usually they are meant to be form fitting and may be too revealing for the office. (Save those for the night out!)
Length: Be conscientious of length. Culottes should normally fall just below the knee or at the mid-calf. Remember the taller you are the longer you can drop the hemline, the shorter the higher the hemline should be. Keep it proportional.
2. Try a Vest
A great way to add structure and class to an outfit without heavy layering is by adding a vest. This spring/summer you will be seeing so many structured vests with beautiful lapels, classic pockets, and perfect belts to define your waist. Pair with a skirt, or over a dress, trousers, or even with your casual wear jeans. You will have a well put together and nicely refined look that works especially well for those "dress-down" Fridays!
3. Play with Prints
Don't be intimidated to mix up some prints. Prints are a great way to add interest to basic pieces. If gingham trousers and a striped top are too loud for you, start smaller. Try a striped top with a floral bag or printed shoe. Once you step out of your comfort zone of black suit and white blouse, you'll see that there's more life in the pieces you already have. A couple key points when mixing prints:
Match the size of your prints. Don't wear a fine line plaid with a large floral print. Try a softer, smaller floral print.
Match colours between prints. Find one colour in the print and coordinate it with the second print. Keep some consistency with the colours.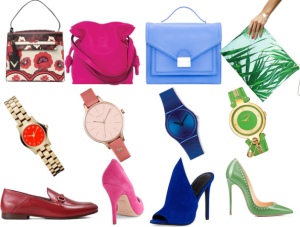 4. Pops of Colour
If you want to keep it simple and stick with the pieces you already have, shake up your black suit with a cobalt shoe, or a red bag. Or try giving your grey skirt some life with a green clutch or a pink accent watch. Simple pop-of-colour pieces are great if you want to spice up your work wardrobe, and they work just as well a pair of jeans and a t-shirt. They're great pieces that can revamp a lot of pieces in your closet. Make sure you have a few in your closet.
5. Knee to Tea Length Skirts
During the summer heat, the last thing you may want to be wearing is a fitted skirt. Try changing things up with a knee or tea length skirt. A tea length skirt should hit just above ankle length and below ballet length (mid-calf.) This is a beautiful feminine piece that's work-appropriate but it will also keep you cool in the summer heat. And it's a trend that you will be able to integrate into your Fall wardrobe.
As we eagerly await the summer season, shake up your wardrobe by trying these new five fresh looks. You'll be a trend-setter both inside the office and on the street!